Stuff I've been doing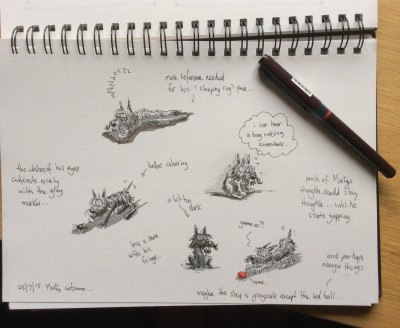 Has it really been that long since I updated here? Time is flying this year. Our From The Horses Mouth book released and we continue to get very positive reviews from magazines and blogs. I have no idea what sales are like, but it is great that the cartoons are out there and being enjoyed. We still hope to get to some form of country or horse show this year to meet people and talk about the book, and I will draw cartoons in their copies. I know that the publishers are keen for us to do this.
The Zang Fu book is progressing nicely despite a long stay in Sweden recently with Lotus Nei Gong (the school of internal martial arts my co author Damo heads up). Being close to Damo, even though he was naturally very busy, gave us opportunity to discuss our book and I have come back with lots of new story ideas and characters from his conversations and lectures. One of the largest organ pairs (lungs and large intestine) is complete and the publishers are pleased, as are the students whom I gave a sneak peek to whilst in Sweden. Still a lot of work to do though before the November deadline!
With all this activity I was delighted when an old character who I draw often for any greetings card sent to my Mum or Dad took on a new life under my pen. I am spending more time on the phone than usual which gives me time to let my right hand draw what it wants whilst my brain engages in the conversation. There is a way to go yet, but I have high hopes for a comic strip about a cairns terrier named Monty with more issues than the Times newspaper and just as much character. Watch this space........but don't hold your breath or forgo toilet visits because three months might slip by again!