Things I've been doing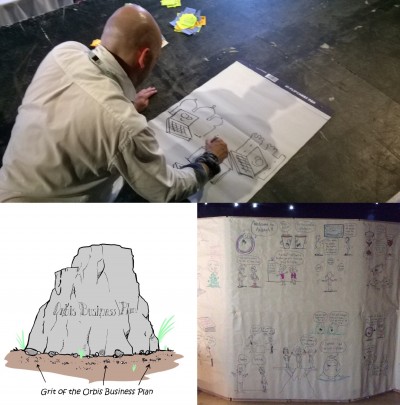 There can be nothing better than spending a day combining my cartooning and management consultancy personas, and I got to experience that as a conference cartoonist earlier this month.
I was commissioned by Orbis (a Public Sector organisation which provides a range of services to three Councils in the South East of England) to attend their Leadership Community Event as a cartoonist. As the delegates communicated their progress and discussed how to improve the organisation, I picked up key phrases or events and captured them as cartoons on a room divider wrapped in brown paper (known as 'the wall' from this point on because it sounds more impressive).
As the screen filled during the day the delegates would wander over and interact with the cartoons, seeing their achievements, problems and phrases transformed into gag cartoons or funny illustrations. I also encouraged them to join in either directly. I drew a number of the cartoons with blank speech balloons which allowed them to fill in their own joke or statement, or took instant commissions and added the idea provided as an instant cartoon to the wall. It often provided them with a new angle on their thoughts, and as they were funny they were memorable too. It was a really enjoyable day, and i have drawn up half a dozen of the thirty cartoons created on the day as finished cartoons for use in their internal communications.
I look forward to doing this again soon, although I may need to strengthen my legs a little before the next gig as all that squatting and rising and squatting at the cartoon wall left my legs aching for days!
Looking to learn more about shared public services? Contact Orbis.
Looking for a dynamic and creative boost to your next management event? Contact me :)